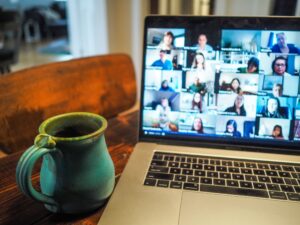 From exclusive content to merch, online events have unlimited potential
2021 is already off to a more hopeful start for the events industry.  Multiple COVID-19 vaccines are being administered around the world and a return to normalcy seems within reach.  In Austin, home to several popular conferences and festivals like SXSW, local experts estimate that some events could resume by early summer.
In the meantime, however, virtual events are still the safest way to pull big groups together.
Some business owners may have their doubts, but it's important to think of virtual events as marquee attractions instead of temporary substitutes for in-person gatherings.  If you execute them well, there's tremendous potential to boost your business revenue.
Key revenue sources from virtual events
The key is to ensure you provide value-added content that meets your attendees' expectations.  You need to justify the price of admission for ticket buyers, and you need to assure sponsors that they'll get the same amount of exposure.  This means you'll need a solid promotional strategy to reach as many people as possible, and you'll need a well-planned, flawless event program.
Additionally, there are more innovative revenue opportunities in the virtual realm.  Each event can be recorded and packaged as exclusive content.  Attendees can continue to access this content long after the event concludes, which means ongoing brand exposure for you and your sponsors.  And you can charge non-attendees a flat fee to access the same content, which could be an indefinite moneymaker.
You can also sell products or services during your virtual event, including e-books, online courses, memberships, physical merchandise, affiliate offers, and early previews of forthcoming releases.
Mini case study
As an example of virtual events' financial potential, look to Travis Scott.  The rapper and entrepreneur hosted a nine-minute virtual concert in the popular game Fortnite.  12 million people tuned in to the broadcast, and Scott reportedly earned $20 million.  By comparison, he needed to tour 56 cities over the course of a year to earn $53.5 million.  The concert was an incredibly profitable event that involved no travel, few overhead costs, and a small-time commitment.
Virtual events aren't a lackluster alternative to in-person events.  They offer a more profitable path for any business that wants to reach more people and create new revenue streams, and they'll deserve a spot in your business plan long after the pandemic ends.