Businesses and attendees alike will continue to benefit, even when things return to "normal"
So far in 2021, live events have returned in an altered fashion.  Super Bowl LV went off without a hitch, but before an audience of 25,000 instead of the more than 70,000 fans usually in attendance.  Major awards shows like the Golden Globes, Grammys, and Academy Awards will still happen in the coming months.  And countless films and TV shows are in production.
All of this suggests we're moving forward.  Though the majority of the population may not be vaccinated until late in the year, event producers are finding ways to pull groups together in-person.
Still, even as savvy creatives find pandemic workarounds, this doesn't mean we should throw in the towel on virtual events.  Even after COVID-19 is under control, they'll still have tremendous value.
Inclusivity and accessibility
Virtual events have worked wonders for inclusivity.  Typically, events are only of value to those who can attend.  These are people who either live near the event site or who have the means to travel there.  In contrast, anyone with solid Wi-Fi can show up for a virtual event, which expands accessibility and widens the event's appeal to a global audience.  If you go back to in-person events exclusively, you risk excluding a huge swath of potential supporters.
Additionally, consider that not everyone will feel comfortable packing into a crowded venue, even if most people are vaccinated.  Virtual events will continue to be a safe alternative for those who aren't quite ready for a traditional conference.
Costs savings
Before the pandemic, businesses spent more than $1 trillion annually on conferences.  Virtual events have cut back this spending considerably (though certain platforms and experiences can still drive up costs).
For businesses that have struggled throughout the last year and who have a long recovery ahead of them, virtual events offer a more financially viable way to connect with customers and build brand awareness.  And for small businesses that want to try their hand at conferences or conventions, virtual events provide a much lower barrier to entry.
Existing demand
The popular narrative is that the pandemic has been the sole driver of interest in virtual events, but we were headed in this direction long before the first quarantine.  In 2018, an Interactive Advertising Bureau report found that 67% of global consumers had already streamed live video content, and 47% had recently increased their consumption.
Consumers were already craving more virtual content, and despite the grim circumstances of 2020, the pandemic gave them what they were asking for.  Demand will only continue to grow from here.
Conclusion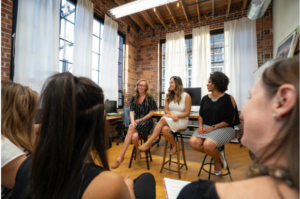 If we've learned anything in the last year, it's that we can't go back to the old way of doing things.  Virtual events have become an essential tool and will continue to be throughout 2021 and beyond.